Crossed Fingers 3 Further Info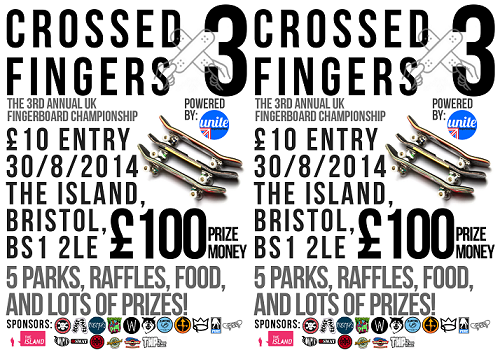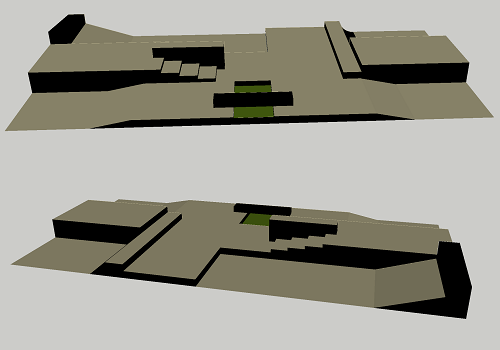 Crossed Fingers 3 is approaching rapidly, with only 1 and a half months left until fingerboarders from around the UK descend on Bristol for the annual fingerboard championships, and battle it out for the cash prize of £100 (along with a ton of other prizes). I promised news on it the other day, so here's everything new that's gone down with the event.

Firstly, the new park that's being built next month and will host part of the championships has been fully designed, check out the pictures above! I personally think it's one of the most fun parks I've designed, so I'm really stoked to get on to making it and have it as a centrepiece for the championship - it'll probably be the park where all the runs are held in the first round of the three round championship.
"it's set to be the best Crossed Fingers event so far"
More sponsors are confirmed and 6 packs have arrived so far, with products from Blackriver, Morph, FBS, Northwoods, Planktoon, and SWAT already plastering my floor with more prizes than I've got space for - and there are at least 8 more sponsor packs to come. Huge thanks to all the sponsors so far, there are some amazing things here to give away. As with all Crossed Fingers events, the aim is that no one goes home empty handed, and 50% of all sponsor material is given out in raffles and product giveaways rather than as prizes - so you don't have to be the best to snag some rad new product.
Finally there's soon to be sorted out (not confirmed yet) a collaboration to get a free skate sesh the day after the event at Campus Skatepark, and another local collaboration being worked on that should be pretty awesome. Not to mention free pizza for everyone who comes in, plus all the usual brilliance - it's set to be the best Crossed Fingers event so far. Definitely get there if you can!
Check the Crossed Fingers site
here
:)
Posted on 17th July 2014 at 12:22 by Kerry.
.